Iridescent Rainbow Colorful Wine Glasses Oil Slick Glass Gift Glass Birthday Party Wedding
Material: Soda-Lime Glass
Hand Wash Only
Size of Oil Slick Glasses
Wine Glass - 9.3*24cm/520ml/150g/17.5oz
Stemless Wine Glass - 9.3*12/550ml/195g/18.6oz
Champagne Flute - 26*5cm, Bottom 7.5cm, 270ML/170g
OEM/ODM available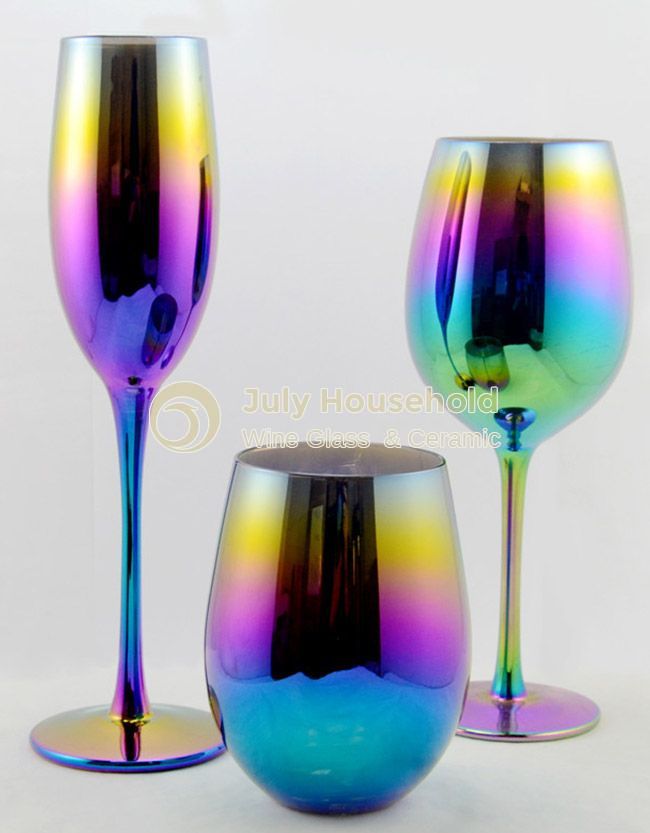 CUSTOMIZE OIL SLICK WINE GLASSES
FEATURES
Oil Slick Glasses
Oil slick glasses is a type of glassware that has a unique, iridescent finish that resembles the appearance of an oil slick on water. The finish is created by applying a thin layer of metallic particles to the surface of the glass, which reflects light in different colors depending on the viewing angle. Give your glassware a fun and stylish update with this type of oil slick glassware, iridescent wine glasses. Their multi-coloured lustre will add a beautiful view to your meal.

The swirling pattern of colors is created by applying a thin layer of metal oxide to the glass during the manufacturing process. The resulting effect is a mesmerizing and dynamic play of colors that changes depending on the angle and lighting conditions. The Oil Slick Wine Glass is not only a functional vessel for enjoying wine but also a beautiful work of art that can add a touch of elegance and sophistication to any table setting.
Features of Oil Slick Wine Glasses
● Iridescent finish that resembles an oil slick.

● Available in a variety of colors such as gold, silver, and rainbow.
● Can be used for drinking glasses, vases, and other decorative items.
● Some oil slick glassware may be hand-blown, adding to its uniqueness.
● Can be used for a variety of occasions and settings, including formal and casual settings.
● An elegant way to add a touch of color to a table setting.
Application of Oil Slick Glasses
Toast to colorful design using these oil slick wine glasses. They each feature a rainbow luster finish for a unique affect. This set of four is perfect for serving and drinking during a meal or party.
July Household focus on providing customized oil slick glasses and iridescent colorful wine glasses. Please feel free to contact us and let us know your ideas. Get wholesale price of oil slick glassware now!